In the world of scientific research and exploration, the old adage "seeing is believing" holds a unique and undeniable truth. This is especially prevalent in the field of microscopy, where the pursuit of tiny details, dynamics, and the unraveling of the interrelationships between living compartments are integral to our understanding of the world around us.
Indeed, I confess to having spent a vast majority of my time building microscopes simply because I could, driven by an innate curiosity to explore and create. Yet, despite this dedication, I realized I had only skimmed the surface of the sheer complexity and insane beauty nature offers under the lens. It's again time to go out and explore! 🙂
The journey took an exciting turn when my good friend Manu Prakash, known for his Foldscope (www.foldscope.org) and frugal science class (www.frugalscience.org), invited me to capture images of things that shape our everyday life. Fascinated by this proposition, I decided to revisit our old concept of capturing biofilms – tiny living communities that form on any surface submerged in water for a period.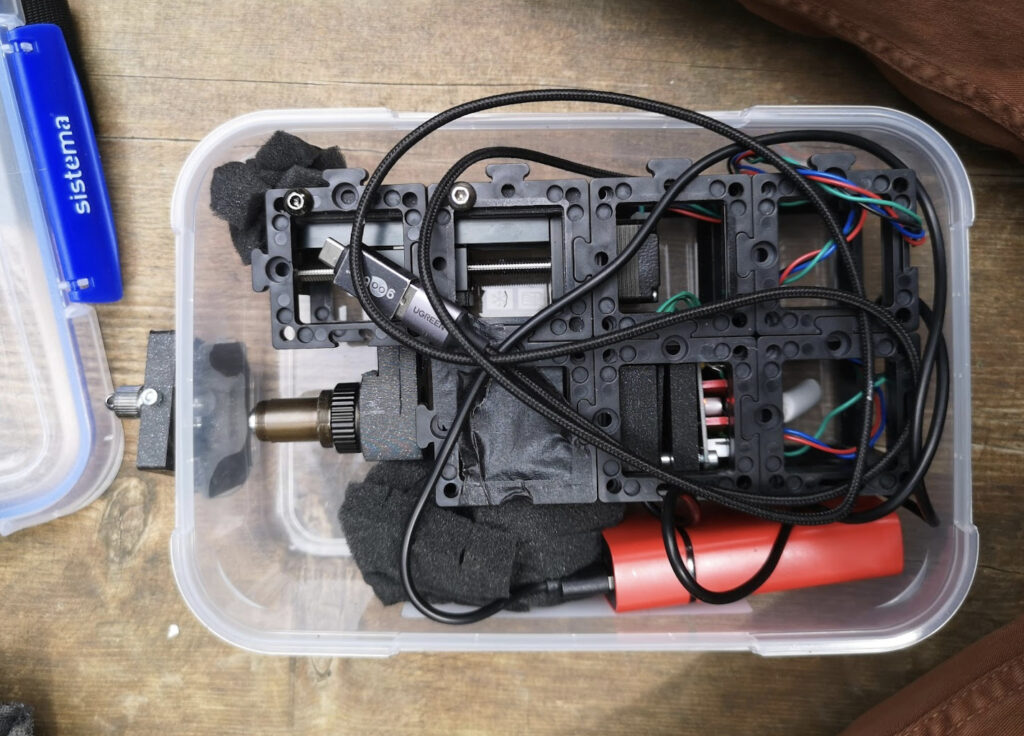 The idea inspired the creation of the 'matchboxscope' and later the 'anglerfish microscope' (see matchboxscope.github.io). These devices, based on the ESP32 camera, symbolize the smallest and cheapest configuration of an autonomous, open-source microscope capable of operating underwater. Yet, despite the success, I wanted more – better resolution, higher magnification, higher contrast illumination, and improved refocusing capabilities.
Answering this call for refinement, I employed our openuc2 optics toolbox to rapidly prototype an upgraded, openuc2-inspired anglerfish version compact enough to fit in a lunchbox. This new iteration boasted better functionality and was field-tested during a family trip to the Allgäu in Bavaria. Armed with the Seeed Studio Xiao Sense (ESP32S3 Camera) drive microscope, our alpine hikes turned into expeditions, scouring ponds, lakes, and rivers for interesting subjects.
Our new setup, which incorporates a TMC stepper driver hooked up to a UC2 linear stage, provided us with additional insights through its refocusing ability. This marks the first step towards a highly professional, fully autonomous, yet completely open-source imaging solution. My hope is that this will not only fuel my curiosity but also help those with a stronger background in marine biology gain more insights into underwater biodiversity.
In conclusion, our start-up's journey into the microscopic realm has been thrilling and rewarding. If you share our curiosity for the unseen world, stay tuned for a series of blog posts showcasing our results and journey. The world is full of wonders waiting to be discovered, and through our microscopes, we hope to bring these microscopic marvels to the forefront. Remember, it's not just science; it's fun! Let's explore this world together.